As you all know, Star won the distinct honor of making the 50,000th comment on the Big-Brother-Blog last week. In the tradition of Big Brother, it's time for America to vote! You will decide what Star will receive as a reward for her accomplishment. Your choices are:
A $40.00 PayPal reward. I hear that Star likes to antique shop, so what better gift than money in her PayPal account that she can use towards an eBay goodie?
Free Big Brother Live Feed for next season. Star can relax and know she has next season covered.
$40.00 SuperCertificate to Giftcertificates.com. This site will let Star pick where she wants to spend that $40.00.
A special Star Trophy. Star will never forget her 50,000th comment as she dusts her trophy time and time again!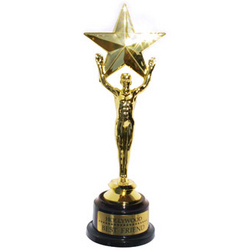 Okay, America–it's up to YOU…what will Star's reward be? You have until Thursday night's live show begins (East Coast) to vote. Look for the special poll set up on this page and get voting! Bloggergal