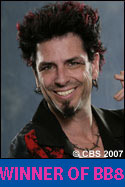 Said in my best Julie Chen voice…
"In a vote of 5 to 2, Dick you are the winner of Big Brother 8!"
**wild cheering and celebration occurs across the nation**
In case you missed it, the votes ended up like this…
Jen and Jameka voted for Dani
Eric, Jess, Dustin, Amber and Zach voted for Dick
The finale was entertaining. I enjoyed watching the jury questions that were asked and Dick and Dani's responses. However to me the best part was the reveal of the big twist of America's Player. Eric had a sheepish look and was very worried and nervous about the response of his role. He even whispered to Jess that he would expain everything later during the live show. (is the honeymoon over all ready?) 😉
It was good and the house guests are all still kicking themselves for not breaking up Dick and Dani early in the game when they had the opportunity.
So with this post I am going to allow my popular summer website Big-Brother-Blog.com to go dormant. What this means is that we will not be posting anymore until we get new news on Big Brother 9. So…if you signed up for the mailing list…please do not opt out or unsubscribe. This will be the last post (at least I think so) for Big Brother 8! We will let you know when Big Brother 9 is getting underway around here. The posts and comments will remain for archival purposes and we hope you go through and reread them for some very entertaining stuff!
So…sad and want more? Feel free to join us at any of the following websites…
Survivor China Blog.
Reality TV Forum.
Must Read TV Blog (updated by Big Brother Blogs own sooner ryan!)
Thanks again for making this the most popular Big Brother Blog on the internet (or at least one of them) and we promise to do it again next year!
Peace, BBBlogger