So I am not sure anyone else is still feeling empty….like something is missing from their lives. Its like the time invested over the past 3 months has not come to a stop and many fans of the Big Brother TV Show have started to integrate back into their lives! Officially…Summer and BB8 are over…however, the fun can continue.
On Wednesday 9/26 @ 6pm PDT, America's favorite showmance will be live and ready to chat with you. That's right Jess and Eric will be on the live feeds (which are no longer live but they are still showing the whole season once again!) and will be interviewed for your enjoyment. This chat is exclusive to SuperPass subscribers only. If you still have not canceled your live feeds your in luck. If you no longer have the feeds…sign up for FREE 14 day trial and watch the interview that I know you do not want to miss.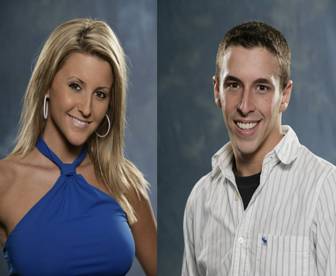 During the live chat you will be able to ask them anything you want…for example…
• What are their true feelings towards each other?
• Was their first kiss a part of Eric's task or was it heartfelt and honest?
• Do they see a future for themselves?
• How hard was it for Eric to not tell Jess about his role as America's Player?
• Did Eric's role as AP cost him his as well as Jess's game?
Be sure to email your questions to Real Networks at askbigbrother@real.com, please include your first name and city with your query.
Also, please DO NOT UNSUBSCRIBE from our mailing list. As you see we are not emailing you daily but we will be telling you all about Big Brother 9 when the information comes available so you will not miss out on any news about next years Big Brother show! Also, like this post shows…if there is something that we think you may enjoy we will let you know!
Thanks again for being a part of our wildly successful blog…it is because of all of you that this site has been so amazing!
Peace, BBBlogger
(PS: most of us are over at Survivor-Blog.com…come and hang out with us!)