My husband and I attended Reality Rally in Temecula California this weekend.  This for charity event was created by Survivor contestant Gillian Larson.  Reality Rally is an event modeled after The Amazing Race where teams race throughout the city in a competition involving crazy activities, all for the coveted trophy, cash prizes, and most importantly raising funds for the charity of choice. This year's charity is Michelle's Place, a breast cancer resource center located in Temecula.  The idea is for regular folk to form teams with Reality TV stars to compete.  The weekend long event gave fans ample opportunity to hang out and meet their favorite stars.
Big Brother contestants were some of the most personable we met, but we knew that, didn't we?  One of my favorites, Ragan Fox was on hand and a lot of fun to spend time with.  I asked him about being on camera 24 hours a day.  He said that since you don't see the cameras that you "almost" forget they are there.  I was excited that he was interested in this blog.  He took my business card and promised to check us out.  Hi, Ragan!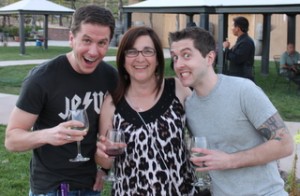 Matt Hoffman is another BB past alumni that I enjoyed meeting.  He has a great personality and is very down to earth.  I felt like I knew him after only spending a few minutes with him.  It was great that he, along with almost all the reality TV stars took the time to get to know me by name, etc.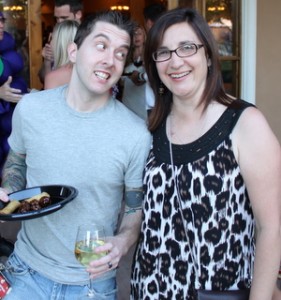 A surprise for me was how much I liked Annie Whittington.  I think since she was voted off so early on Big Brother, we didn't really get a chance to know her.  She did admit to me that Big Brother producers made her change her hair color to dark because they didn't want another blond on the show.  This rumor had surfaced during the season and now we know the truth!  She did ask me for confirmation that the blond is a better look for her.  What do you think?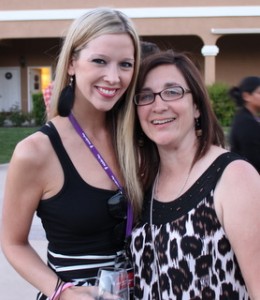 I know what you are thinking, but I swear Brendan Villegas and Rachel Reilly are two of the nicest people I met at Reality Rally!  Rachel is really, really sweet and she is totally in love with Brendan.  She broke the news that the couple are engaged and happily showed off her gorgeous engagement ring.  Brendan was pretty matter of fact when I mentioned that most of America didn't think they could survive a Big Brother romance.  He laughed and said, yes, that everyone was looking at their watch to see how long they would last, but that they are happy, in love and plan to stay that way.  My husband asked Rachel if they were considering any future reality TV appearances, for instance The Amazing Race.  She said that this wasn't totally out of the question, but that Brendan was really busy and focused on completing his doctorate.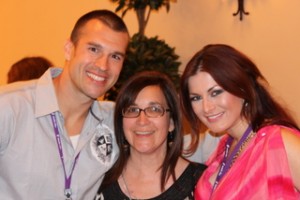 Check out this picture of my husband posing with Michele Noonan.  Are you saying "who?"  Michele was part of the brains during the brains versus brawn BB.  Dr. Michele has definitely given herself a bit of a makeover hasn't she?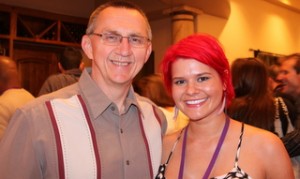 Two Big Brother "hotties" are Sheila Kennedy and Michelle Costa.  If you remember, Sheila was famous for being a Penthouse gal.  I whispered for them to show my husband some love and as you can see from this picture—they did!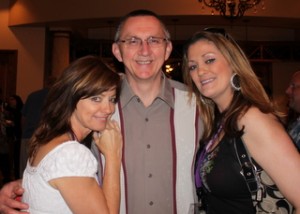 Evel Dick Donato was one of the most elusive of the reality TV stars at the cocktail party.  Lucky for me, I caught him right at the beginning of the cocktail party and asked him for a picture.  He asked if he could eat first and I told him no.  He raised his eyebrow a little bit, but in pure Evel Dick style he appreciated my spunk and posed.  I overheard him having a conversation describing one particularly zealous fan who thought it would be okay to grab his "junk".  He jokingly said "I usually charge a hundred bucks for that!"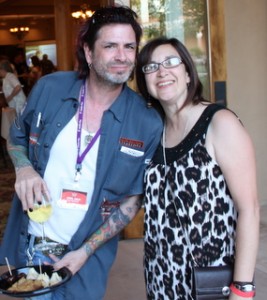 Do you remember Zach Swerdzewski on Big Brother?  Remember him constantly promoting his website—something with the word dolphin in it?  Well, some things never change.  That website did go bust, but he has a new venture now and took the opportunity to ask me to give him a plug on my blog.  So if you want to check out his site go to www.77liquid.com.  Believe it or not, he sells couture bikinis.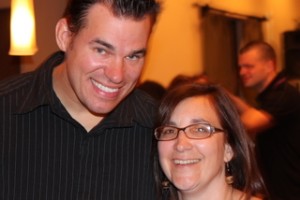 Last, but absolutely not least was Hayden Moss.  I kept looking for him all evening and finally found him.  He told me that he had enjoyed a great game of golf that afternoon at the Pechanga Resort.  He's still living in Arizona and I took the opportunity to tease him about his fear of flying.  I asked him about it and he said that he doesn't feel in control when flying. He said he still flies, but he doesn't enjoy it.  He was exactly as I remember him on the show…oh, and did I mention, just as cute?  He also told us that he will be interviewing for a sportscaster job with Fox Sports in NYC.  We may be seeing a lot of Hayden in the future!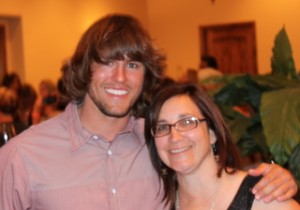 All the contestants are looking forward to the next Big Brother season.  Rachel is wondering what BB has in store for season 13.  She thinks that the producers will definitely take advantage of the unlucky number 13, but she doesn't know how and she can't wait to find out.
All in all, I have to give high props to the Big Brother reality TV stars that attended this charity event.  They were a great bunch and I love every one of them!  See you in July!  Bloggergal