So if you watched the recap show tonight (which drove me a little crazy since I kept saying…yep….I remember that!) you might have had a chance to remember and see things you might have missed or forgotten about! It was ok but seemed way to planned and way too scripted. I thought this was Big Brother and reality not…hey say this and preview this clip for TV. UGH! (Thanks CBS!)
So with all eyes on Wednesday night and the finale after the the premier of Survivor: Philippines there is not much but the FEEDS! *and with 3 people they are even a little boring!*
We will be rocking the blog's comments with updates and stuff so be sure to be posted! More coming tomorrow!
Peace, BBBlogger
FOR THE REGULARS of BIG BROTHER BLOG:
It is with a heavy heart that I let you know that we received word via comments that one of our own has passed away! Please view the following 2 comments…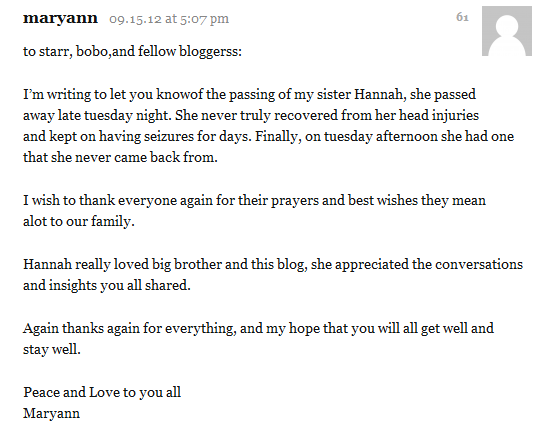 And then her daughter logged in and posted this…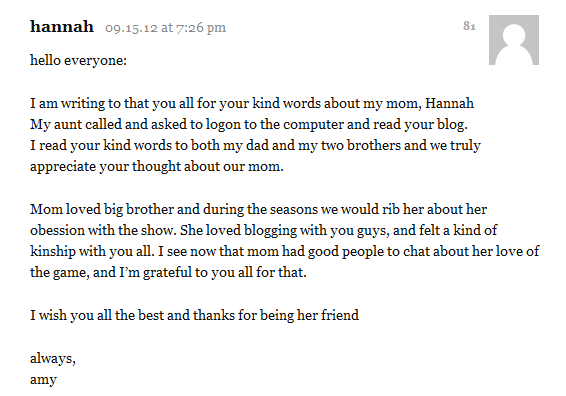 Now I feel great joy that a little blog that I have run for 8 years has become a HOME for so many. Yes people come and go but it is always sad when someone is lost who is a part of your family.
Thank you for letting us know about Hannah's passing. I will be praying for you and your family and I ask that everyone who reads our little blog about our favorite TV show takes a minute to let everyone you know how much you love them.
I do truly love all of the awesome people who comment on the blog regularly and lurk and read our silly chatter! Yes even the ones that do not play nice all the time. At the end of the day, we are also a family and I care for all of you. That is why I still own and keep this blog alive.
I love you all and if you would like to email me your comments please do. Tonight we mourn our loss and tomorrow we get back on the horse and finish this season of Big Brother 14 strong!
Peace, Bill aka BBBlogger
email me at djbilllage@gmail.com or comment below