Hi y'all!
So, as of right now, there's not a whole lot to report about the house.  Haleigh has been following Angela around everywhere and has basically been going through her usual ritual of sucking up to everyone in the house.  In fact, she's been spending so much time with Angela that, during one of the few times when Haleigh wasn't with her, Angela felt the need to reassure Sam that Haleigh is indeed the target this week.  As Angela explained it to Sam, everyone in the House is sick of Haleigh and can't wait to vote her out.
So, again, it looks like Haleigh is definitely going to be the first person voted out of the House on Thursday.  What happens after that is anyone's guess.  Assuming a member of Level 6 wins the HoH, I imagine that it'll be either JC or Sam who follows her to the jury house.  If either Sam or JC wins HoH, all bets are off.
Since there's not much going on in the House, I figured that I would share a few pictures with everyone.  First off, I've spent a lot of time criticizing JC this season but I did want to show everyone what he did today: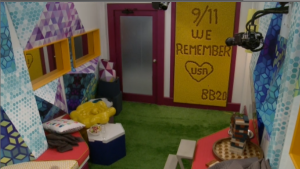 Secondly, on Saturday, we had this season's comic book veto comp.  Production has released images of the covers for the five houseguests who were evicted prejury.  Here they are:
Because of the "Twinston" cover, the houseguests have been speculating that Winston and his twin may have been switching placed in the House, like the Nolan sisters did back in Big Brother 17.  Of course, that didn't happen but Brett still seems to be pretty disturbed at the thought that he may have been hanging out with Winston's twin instead of Winston.
We'll get to see all of the comic book covers on tomorrow's show!
And then on Thursday, it'll be time for the double eviction!
We'll see what happens,
Lisa Marie