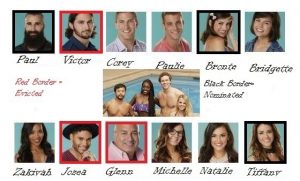 Hi y'all!
Well, this is certainly shaping up to be a strange week of Big Brother.
The strangeness starts with Bridgette.  Usually, when a formerly quiet houseguest suddenly and unexpectedly becomes head of household, it means that you'll finally get a chance to discover who they actually are.  When Bridgette won, I thought we'd finally see some personality and some strategy from Bridgette.
Well, we are three days into Bridgette's reign of power and all I've discovered is that she doesn't have a personality.  Nor does she appear to have much of a strategy.  Before Bridgette won HoH, she spent most of her time hanging out with Bronte and Natalie and barely interacting with anyone in the house.  Then she won HoH and she's still not really interacting with anyone other than Bronte, Natalie, and Frank.  She doesn't seem to understand that Bronte and Natalie have no idea what's going on in the house and that Frank is only looking out for himself.
(Somehow, she has yet to figure out that Frank not only nominated her during week one but also nominated Bronte during this week.)
Earlier today, Bridgette told Natalie and Bronte that they needed to be her "eyes in the house" and let her know what everyone was saying and I really had to laugh.  Natalie and Bronte are both clueless,  The Spy Girls are seriously lacking in intelligence.
And yet, Bridgette has all the power.  Not only is she HoH but earlier today, she won the veto competition!  She also sprained her ankle.  Apparently, Frank collided with her during the veto comp.  We'll see the details on that next Wednesday.
So, Bridgette has all the power.  Natalie and Bronte are both convinced that Bridgette is a "competition queen."  But here's the thing: Bridgette is planning on doing NOTHING with all that power!  I cannot begin to follow her logic.  After making her nominations, she spent an entire night complaining that Frank had talked her into doing what was right for his game instead of her game.  She and Bronte got together and started yelling about how they were all about girl power and how, if they had the veto, they could take Tiffany down and replace her with Corey.
Okay, so now, Bridgette has the veto.  And she's decided she's going to keep the nominations the same.  She did consider using the veto on Bronte but — get this — Bronte apparently told her not to!  Because if Bronte comes off the block, that means that the roadkill winner will pick the new nominee.  And Bronte is worried that Nicole will be nominated and apparently, Bronte thinks that Natalie could be a future ally.
Could someone explain to Bronte that there's no point in cultivating future allies if you're no longer in the house?  Seriously, what type of idiot volunteers to stay on the block!?  If you have a chance to get off the block, you get off the block!
So, as of right now, it appears that Tiffany will be going home.  Tiffany knows it too and is still freaking out and having a pity party.  But, that could change.  Frank is the one who wants Tiffany out and nobody likes Frank.
Even though Frank is in charge this week, I still think his days are numbered.
But for now, he's safe and Tiffany's in trouble.
Lisa Marie