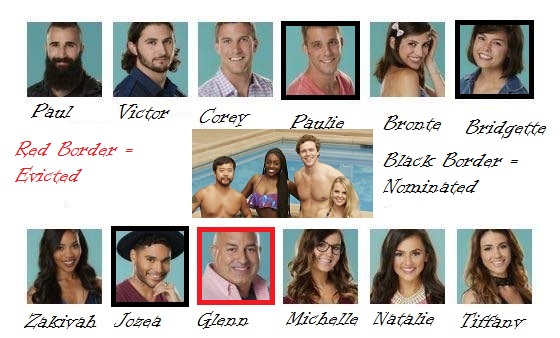 Hi, everyone!
Wow, what a long and exhausting day.  As some of you know, BBBlogger briefly experimented with a new format earlier today.  We're trying to fix some things on the site, as far as e-mails and numbering is concerned.  Personally, I liked the new format but it turned out we had a slight problem: the new site did not work on several people's phones!  As you can see, for now, we have switched back the old format.
But seriously, everyone — thank you for your feedback!  I know that it was probably a shock to come on the site and see a new format.  Some of you liked it and some of you didn't.  What's important is that you let us know!  BBBlogger is still working on the site so there might be some changes over the upcoming week and we hope that you will continue to let us know what's working and what is not working.  Just be patient because some things are easier to fix than others.  Thank you! 🙂
Anyway, I'm watching Big Brother After Dark right now and seriously, can they just go ahead and get rid of Paul?  I mean, I know that he won the veto and he has taken himself off the block but I'm just saying — as a favor to me, can we just put him back on the block?  I guess we can't.  We have to follow the rules.  But seriously, can Paul just go?  Right now, he's obsessively talking game with Bronte and it's painful to watch.  When it comes to Paul strategizing with Bronte, it really is the blind leading the blind.
(Paul may be attempting to play the villain, in much the same way that Austin played the villain during the previous season.  But a great villain is entertaining.  Paul's just a jerk who appears to have numerous issues with women.)
Time and again, we have seen that the best strategy for the first half of any Big Brother summer is to lay low.  Don't draw undue attention to yourself.  Don't give anyone reason to think of you as being  a threat.  Don't get on anyone's nerves.  Paul has screwed up on every count and, if he hadn't won that veto, he'd probably be going home on Thursday.
But even winning the veto has just served to put an even bigger target on Paul's back.  Not only has Paul shown himself to be annoying loudmouth but he's also shown himself to be a challenge threat.  If Paul survives next week, I'll be surprised.
However, Paul will survive this week because he won the veto!  They had the veto ceremony earlier today and Paul, of course, took himself off the block.  Bridgette was nominated in his place. Since Frank won the first Roadkill challenge (as we saw on Sunday's show), he was the one who both nominated Paul and then nominated Bridgette as his replacement.  Since the winner of the roadkill is kept secret from the houseguests, I assume that Frank made his nomination in the Diary Room before the veto ceremony.
So, as of right now, the three nominees are:
Paulie, the wannabe Cody
Jozea, the wannabe Frankie
Bridgette, the wannabe …. actually, Bridgette hasn't really established an identity for herself.  She's just kind of there.
Paul and Jozea still believe that they have the votes to evict Paulie.  Earlier Paul told Bridgette that Frank, Da'Vonne, and Zakiyah will join him, Natalie, Victor, and Bronte in voting out Paulie.  Paul is massively misreading the house because, as of right now, there's no way that Frank, Da, or Zakiyah would vote to keep Jozea.
So, as of right now, it looks like there will be four votes to evict Paulie and everyone else will vote to evict Jozea.  Bye, Jozea!
In others new:
Paul really, really hates Tiffany.  His hatred of her is bordering on the obsessive.  He was just telling Bronte that he hates the fact that Tiffany is always wearing a hat and sunglasses inside.  You know who else always wore a hat and sunglasses inside?  Vanessa!  And yet, I don't think that Paul has figured out yet that Tiffany is Vanessa's sister.  Did Paul see last season?  I have to wonder because, so far, he's playing this game like someone who has never seen Big Brother before.
Last night, Tiffany had a minor breakdown because of something that Frank said to her.  She ended up lying in bed in the HoH room, sobbing with her little bunny hat on her head.  For the life of me, I cannot figure out what Frank said that upset her.  At one point, Frank and Tiffany were talking in the hammock.  Tiffany kept pulling the hat down, so that it was covering her eyes.  Frank jokingly said that it was hard for him to talk to someone who was hiding her eyes.  The feed then cut to someone else and, when it came back to Tiffany, she was suddenly upstairs crying.  If anyone knows what Frank said exactly that so upset Tiffany, please let us know in the comments!
And finally, last night, Corey told a story about how one of his frat brother apparently covered a goat in lighter fluid and nearly set it on fire.  Corey thought it was pretty funny.  I didn't and neither did a lot of people watching.  In other words, Corey is not exactly popular outside the house right now.  Inside the house, though, he seems to be in a pretty good position.  Everyone likes him, he hasn't offended anyone, and nobody takes him seriously as a threat.  Paul just told Bronte that he thinks Corey is a lot smarter than he lets on.  Paul might be right, though Corey wasn't particularly smart when he told that story about the goat.
That's it for now!  Thank you to everyone who helped us get through this long day!
Lisa Marie