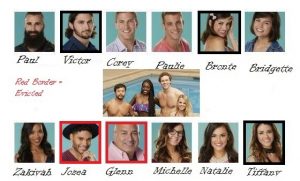 Hi, everyone!  I hope that everyone had a wonderful 4th of July!  I spent today mostly visiting with family and friends, which means that I did not get much of a chance to watch much of the live feeds.  I'm watching right now and the house is surprisingly calm.
Why is "surprisingly?"
Well, despite what I and the houseguests originally thought, they did have the POV ceremony today and, as expected, Paulie took Paul off the block and replaced him with Victor.
Now, I was expecting a lot of drama after Victor got nominated.  I think that everyone in the house was expecting Victor to blow up and start throwing around furniture and yelling at people and basically acting like a fool.
Instead, Victor seems to be taking his nomination pretty well.  And let's give him some credit — after he was nominated, he immediately went to Frank and Da'Vonne and promised them safety if they would save him this week.  It probably won't save him but still, Victor deserves some credit for trying to do something to save himself.  He hasn't given up.
And, even if Victor is voted out, I wouldn't be surprised to see him return.  He's in good shape.  He can win challenges.  I imagine that, in a competition with either Glenn or Jozea, Victor would win.  Considering that the next two big targets in the house are Paul and Bronte, Victor has a very good chance of being the evicted house guest who gets to return.
I have to admit that I've kind of changed my mind on Victor.  Originally, I was all for voting him out but, as I watch the feeds right now, I'm kind of hoping that everyone will change their mind and vote out Tiffany.  With each passing day, Tiffany reminds me more and more of her sister and not in a good way.  One of the problems I had with the previous season of Big Brother is that, after a few weeks, the whole show basically just became nonstop Ruosso drama.  I kind of worry that the same thing could happen if Tiffany isn't voted out soon.
So, as a viewer who is hoping for an entertaining season, I hope that the rest of the house realizes that Tiffany is too paranoid to be trusted and goes ahead and votes her out.
Or, for that matter, I would be happy if they just went ahead and voted out Bronte this week.  Seriously, if anyone is wasting space in the house, it's … well, actually, Bridgette is wasting more space than Bronte. But Bronte is a close second!  Add to that, I think Natalie could be a strong player if she wasn't being held down with her Bronte/Bridgette alliance.
Add to that, Bronte is just so fake.  She may claim to be a mathematician but her main career is acting.  Watch her on the live feeds and you'll see that the cutesy voice and the nervous smile is something that she just uses for the live show.  Oddly, she doesn't seem to realize that the live feeds are on 24 hours a day, which leads me to suspect that she's another recruit who hasn't seen much of the show.
Strategically, I can see why getting rid of Victor is a good idea.  But, as a viewer, I'm hoping that everyone changes their mind and votes out either Tiffany or Bronte.
That's it for now!  Happy 4th!
Lisa Marie