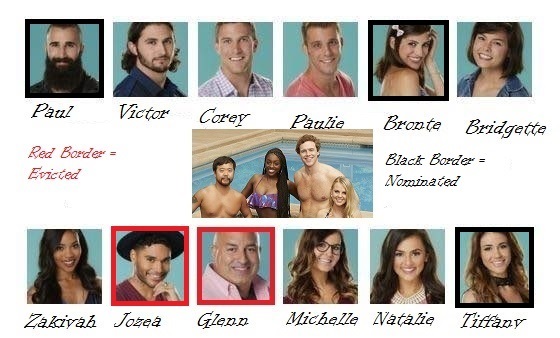 Hi, everyone!
Because of the holiday, this is going to be a quick update but luckily, there's not much to report.  The plan to backdoor Victor is moving along smoothly and it doesn't look like anything is going to change between tonight and Thursday.
Earlier today, Tiffany was officially revealed to be the roadkill nominee.  Tiffany has been freaking out about this ever since she first found out Victor had nominated her.  Last night, many tears were shed and we got a chance to see just how paranoid Tiffany actually is.
As the Eight Pack explained to her, Tiffany could not win the veto.  If Tiffany won the veto, that would lead to Victor picking the replacement nominee.  When Tiffany heard this, she freaked out.  Her immediate reaction was to assume that she actually was the target and the entire house was conspiring to blindside her.  Fortunately, the veterans were able to talk Tiffany off of her metaphorical ledge but the damage was done.  By revealing that she doesn't trust her alliance, Tiffany also gave her alliance a reason not to trust her.  Frank, who has never been a huge Tiffany fan to begin with, is now determined to get rid of her as soon as they finish taking out the newbie alliance.
As far as the veto competition went, the 8 pack got very lucky in that Victor was not selected to play.  Instead, the competitors were Tiffany, Paul, Bronte, Paulie, Zakiyah, and Da'Vonne.  Paulie won the veto but apparently, Tiffany did not throw the competition.  Da'Vonne has complained to both Frank and James that Tiffany seemed to be trying really hard to win.
(Then again, Da'Vonne also told Zakiyah that her first loyalty is to the Fatal Five and that she was only criticizing Tiffany to keep James and Frank from realizing that the girls have a side alliance.  For her part, Tiffany has calmed down now and seems to finally be convinced that she's not this week's target.  Still, when Tiffany had her little meltdown, it was like a flashback to the worst of Vanessa.)
So, as of right now, Paulie has the veto and apparently, he's planning on using it on Paul.  Victor will go up in Paul's place and will be evicted on Thursday.  As of right now, Victor appears to have no idea that he's about to nominated, though Paulie has said that he might tell Victor before the Veto ceremony, just so Victor isn't totally caught off guard.
So, right now, Victor should be out of the house come Thursday and he will be competing against either Glenn or Jozea for a chance to return.
One final note: I'm currently watching the feeds and it seems like Paul is making an effort to hang out with the entire house, as opposed to just hanging out with Bronte and Victor like he did last week.  Unfortunately, I don't think Paul has weapons necessary to launch a charm offensive.
That's it for now!
Lisa Marie