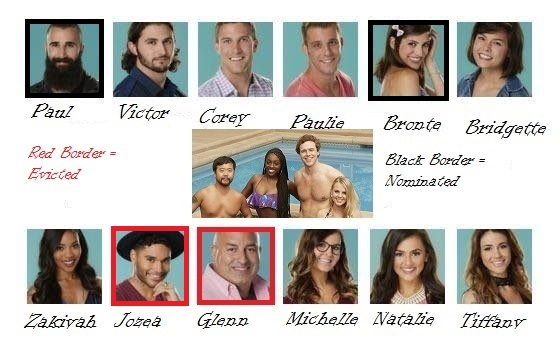 Hi, everyone!
If y'all have been following the comments then you already know who has been nominated for eviction and who won today's roadkill comp.  But I'm going to go ahead and post it here, just to make everything official! 🙂
So, Paulie, who got a letter from Cody as a reward for winning HoH, made his nominations earlier today.  And it's really not a shock who he decided to nominate.  We knew that he was going to nominate two people from the newbie alliance and we also knew that, as a member of Catagory Four, Bridgette cannot be nominated.
So, Paulie nominated: Paul and Bronte!  However, the plan is to backdoor Victor and I have to say that I personally am happy that Paulie did not waste his time by nominating a pawn or trying to do anything too complicated.  Instead, he nominated two people who voted against him.  Even if Victor wins the veto and uses it to take Paul or Bronte off the block, Paulie is almost guaranteed to get rid of at least one enemy this week.
Now, a lot of people have said that it seems strange that Paulie is targeting Victor instead of Paul.  I have to admit that I find it a little bit strange as well.  However, I think I understand Paulie's logic.  Nobody in the house takes Paul that seriously.  He's viewed as being a joke and, despite the fact that he did win last week's veto, he's not viewed as being a real competition threat.  Victor, on the other hand, is in great shape and he actually seems to have more influence over Natalie, Bronte, and Bridgette than Paul.  Paul is a hundred times more obnoxious and irritating to live with but, strategically, it probably does make more sense to take out Victor.
(Though, to be honest, if I was HoH, I would probably be trying to get rid of either Natalie or Bronte because the whole mean girl thing is so tedious.)
Anyway, they had the roadkill competition after the nominations and guess who won?  VICTOR!  Now, that sounds like that would be a bad thing, right?  Wrong.  Victor's an idiot.  He has basically let everyone in the house know that he won and, tomorrow, everyone will know that Victor is responsible for the third nomination.  SERIOUSLY, WHAT IS VICTOR THINKING!?
Originally, Victor was planning on nominating either James or Nicole and that actually would have been a smart move on his part.  Some members of the Eight Pack don't trust James because he's on Team Unicorn with Natalie, Bronte, and Victor.  Nicole, meanwhile, has already proven that she can win HoH.  Victor could, at the very least, make a convincing argument that James and Nicole are both bigger threats than either Paul or Bronte.
However, Victor made the mistake of asking others for advice.  I'm not totally sure who convinced him to do what he did but I think it may have been Frank.  I guess we'll find out for sure on Sunday.  But regardless, Victor somehow got it into his head that it would be a good idea to nominate Tiffany!
Victor made his nomination earlier today and it will be officially revealed tomorrow before the Veto comp.  The only way that this could work to Victor's advantage would be if Tiffany has a major meltdown and goes so overboard that everyone decides to go ahead and get rid of her.  Considering that Tiffany spent hours in bed, crying over a relatively innocent comment that Frank made, it's totally possible that this could happen.
But for now, it looks like Victor's in trouble.
Lisa Marie