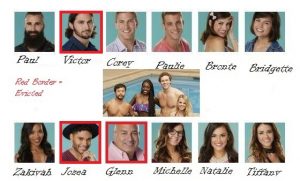 Hi, everyone.
Please accept my apologies.  Because of the violence in my hometown of Dallas tonight, I missed out on a lot of what happened in the Big Brother House immediately after tonight's live show.  I've spent the last hour or so getting caught up so please excuse the lateness of this post!
During tonight's live show, as expected, Victor was voted out.  9 houseguests voted to evict him.  The only exception was Paul, who surprised me by voting for Bronte.  Why Paul would want to get rid of Bronte and not Tiffany, I can't guess.  But what really struck me, as I watched the votes being cast, is that no one seemed particularly unhappy about voting Victor out.  After Victor left, everyone seemed both overjoyed and relieved.
Of course, what they don't know is that Victor will have a chance to reenter the house.  And it's easy to imagine Victor beating both Glenn and Jozea in any competition.
I have to admit that I had actually started to like Victor.  I was impressed by the fact that he actually campaigned for votes after he was nominated, instead of just accepting his fate or having a pity party.  Maybe it's just because I disliked Tiffany and Bronte even more than him but Victor was actually starting to grow on me.
But no matter!  Victor is gone … for now!
Now, in a result that I don't think any of us were expecting, Bridgette is the new HoH!  She managed to narrowly beat Paul for the honor.  I was really excited when I saw Bridgette win, just because I had no idea what Bridgette would do as head of household.  In a game that can often seem predictable, Bridgette winning HoH held the promise of the unexpected.
Her victory also changed a lot of plans in the house.  Frank has been so overbearing over the previous few days that he ended up getting on almost everyone's nerves.  His decision to bring Paulie into the 8 Pack reminded everyone that Frank considers himself to be in charge.  Yesterday, Da'Vonne worked out an entire plan to backdoor him.  Though Frank may not realize it, almost everyone in the house is sick of him.
However, both Frank and Bridgette are members of  Category 4.  Bridgette winning HoH means that Frank, Paulie, and Michelle are all safe for the upcoming week.  None of them can be nominated.  None of them can be backdoored.
Briefly, I was worried that this might mean that James was in trouble but it turned out that Bridgette is almost as bad at reading the house as Paul, Jozea, and Victor.  Bridgette apparently believes that Frank still has a lot of power in the house and that she needs to get on his side.  So, Bridgette is pretty much going to do whatever Frank tells her to do.
And Frank wants her to nominate Paul and Tiffany for eviction.  Apparently, the only question is whether Tiffany will be nominated tomorrow or if she'll be backdoored.  Frank is so obsessed with getting out Tiffany that it's blinded him to the fact that the real threat to his game is coming from Da'Vonne.
And I don't like Tiffany, so that shouldn't bother me.  (Add to that, I doubt she could beat Victor for the chance to reenter the house.)  I don't really care about Tiffany leaving but it does disappoint me to see that Bridgette, with all of her new power, is willing to just be Frank's puppet.
I think Frank's days in the house are numbered.  But, for this upcoming week, he is safe.
Lisa Marie