When Wednesday's BB14 television show ended, Danielle was the new HOH. The only ones left in the BB house are in the Quack Pack, so the Quackers are about to break up. On Thursday night's show, we see Dan tell Danielle what to do (once again). He tells her to put up him and Ian. This is what she wants anyway because she doesn't want to nominate her boyfriend Shane. Dan is so confident that he won't be voted off, he doesn't mind being on the block. Since he has deals with everyone, he feels totally safe.
The POV competition involved solving a puzzle. There were blurbs about house guests and the HG's had to connect the HG with their blurb. Some of the answers could be more than one HG so it was a bit challenging. Surprising to me is that Ian didn't do well on this. I'm not sure why, but I thought for sure with his photographic memory he would sail through to the POV win, but no, Danielle pulled off the win. So that means that Danielle has won two of the most crucial competitions at exactly the right time. Who'd a thunk it?
Now once again Danielle has a decision to make. Whichever BB house guest that is not on the block will decide who gets evicted this week. Prior to the POV ceremony, this is Shane. However, Dan once again sprays his "mist" all over Danielle and convinces her to switch the nominations to Shane and Ian giving him the say as to who would go home. Even typing it, I can't believe anyone could be so gullible and stupid. Even more gullible and stupid is Shane who AGREES to this. Danielle makes Dan swear over and over that he will vote Ian out.
At the POV ceremony, Danielle does what Dan told her to do and takes him off the block and puts up Shane. Ian was in total shock! Dan has played every single player in the BB14 over and over and over. Then the moment that all BB fans were waiting for, Dan votes off Shane. Danielle's face is priceless!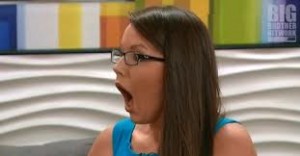 Shane quickly leaves the BB house. I'm not sure if he did this so he wouldn't punch out Dan or if he was afraid he'd start crying. You know for sure Danielle would have. In his interview with Julie, she asks him about Dan and he states that "Dan is just a dirty player." The fans in the live audience cheer. I know it's just a game, but I really feel Dan has played this game ruthlessly and I don't think he should win the money.
Back in the BB house, Danielle is confronting Dan. She asks him how he could lie to her time and time again. He hands her a line that he did it for her. That he just insured that she wins $500,000. Really, Dan? Is that why you did it? You could just see the mist swirling around the room and into Danielle's nostrils!
The ironic thing is that I really wanted to see Ian in the final three and there he sits! I just can't believe how Dan got him there. Hopefully, all will be well and this ends well.
On to the spoilers. The first part of the HOH competition was held. It was an endurance competition. I haven't heard the details yet, but I was very surprised to hear that Ian was out first. I hate to even type this part, but here it goes. Danielle and Dan were still competing and Dan talks Danielle into dropping so that he can win this first part of the competition. Now I'm not sure if Danielle was going to drop anyway, but she agrees and drops. Dan wins the first part of the HOH competition giving him a place in the final part of the HOH competition. What that means is that now Ian and Danielle will compete in the second competition. Traditionally this is a question-style competition. Ian and Danielle are pretty evenly matched so it should be interesting. By the way, Dan asked Danielle to drop because he didn't feel he could beat Ian in the second competition.
The winner of the second competition will play Dan. That winner will be the HOH and chooses who will go to the Final Two. Dan has told both Danielle and Ian that he will take them to the final two. What does this mean? Sadly, I really think that if either Ian or Danielle win, they will take Dan to the final two. If they do, then Dan does deserve to win the $500,000. Hopefully, they will finally realize that they've been played time and time again and take each other leaving Dan out in the cold and me cheering. I think if Dan wins the HOH, he will take Danielle to the final two because Ian has a lot of friends in the Jury House. We just never know what's going on in Dan's mind, unless of course he looks into the camera and tells us.
Traditionally, Big Brother players vote for the best player and put aside their resentment and revenge. Will this year be the same? I think that Dan played a ruthless game and now I think the BB players should also play ruthlessly. Shaft Dan and give the money to the house guest sitting next to him! Oh and one more thing…wear a gas mask to the Finale!!!
Have a great Friday…TGIF…Bloggergal