So tonight on Letterman, Julie Chen was on as the 2nd guest. (which surprised me since I thought she would be "big" enough to be the first guest…but I digress)
I rather enjoyed watching Jessica Alba. To sum up her interview…she is in a new movie called "The Eye", she is "with child" and as HOT as ever!
Then Julie Chen came out and she was dressed in a "Little Black Dress" or what I would deem as one. She was looking good….I do not get her hair style but that is that.
Overall, as expected, there was NOTHING about the next season of Big Brother 9. They did talk about how it started in Holland (I thought it was started in the UK) and how starting in season 4 of the US version they started adding the "surprise" factor into the house guests who are chosen. They also showed a sample of what the "Live Feeds" or the "BB After Dark" would look like and I think they showed an old clip of Julie Chen?? She replied after "Someone will be getting a phone call" so that was the most shocking reveal of the night. Maybe that was Julie Chen's "Dirty Little Secret"! 😉
Only 14 days….are you ready?? Here is today's 14 pic from Matt! Thanks Brother!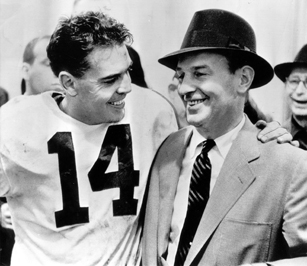 Today I am enclosing a picture of hall-of-Fame quarterback Otto Graham of the Cleveland Browns. Otto led the Browns to TEN STRAIGHT Championship games, winning the first 4, then 3 of the next 6. In 11 years, he led his team to the championship game EACH YEAR….suck on that, Terry Bradshaw!


Peace, BBBlogger