Hi y'all!
Well, I have to admit that I was really convinced that Jessica was going to wise up to what Paul was doing and that she would end up using the veto to backdoor Alex.  I mean, it just seemed like the logical thing to do.  It's not like Paul's being super subtle.  It's not like Josh is that good of an actor.  Even more importantly, Jason told them exactly what Paul was planning on doing.
But, at today's veto meeting …
THE VETO WAS NOT USED!
Apparently, Jessica went back and forth on whether to take Ramses off the block but, in the end, she decided to keep the nominations the same.  That, of course, means that Ramses is probably going to be voted out of the house.  At this point, it seems like Ramses only has two hopes left:
Hope that Josh gets so obnoxious that everyone votes him out.
Hope that Josh accidentally exposes the plan, causing Paul to decide that Josh is actually a liability to keep around.  (I could actually see this happening.)
Hope that Jessica figures out what's going on and decides to waste her halting hex on saving him
I feel a little bit bad for Ramses.  He's not a great player.  Especially for someone who claims to be a superfan, he often seems to be rather lost.  But he seems to be a nice guy and it appears that he's about get totally blind-sided as a result of Cody and Jessica's naïveté.  Cody especially should know better at this point!
On a more positive note, Betty sent me this picture earlier.  Here's Cody with his daughter and his ex: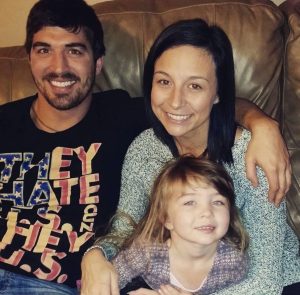 If Cody was willing to smile like that in the Big Brother house, he'd probably doing a lot better in the game.
Anyway, to recap, here is the current situation in the house:
Jessica is the HoH and has the veto, which she did not use.
Christmas still has her ring and can take the place of someone in a veto comp.
Jessica has the halting hex, which she has to use within the next three evictions.
Josh and Ramses are on the block.
Cody, Mark, and Elena are probably going to vote to evict Josh.
It seems like the entire rest of the house — including Matt and Raven — is probably going to do what Paul tells them to do, which right now means voting out Ramses.
Things could always change, of course.  But for now, things aren't looking good for Ramses,
Lisa Marie